To celebrate the 16th anniversary of Reeson we thought of a small collection that represented us with only one element, the rose, with its unmistakable positive value.

The collection will be available to order only through our online store reesonbrand.com and will go into production shortly.
You have time to order until the 18th of October, after which the collection will not be orderable. We have planned a maximum production of 100 parts per garment.
Modern fit - Cool Reeson Style

100% Soft Organic Cotton 

Hi Quality Fabric 

Soft Touch

Custom Syle

Side seams to better keep the shape

Front and Back eco ink print

4 Seasons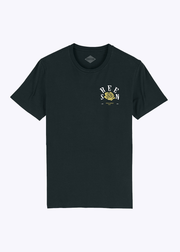 Rose Logo T-shirt