Reeson X South Central - Deck 8.0
Reeson made this board in collaboration with the South Central, same quality of the well known brand originally from Italy and establishes in the 2005. Reeson it means style and quality, a board you must try. 
Usa Made, finest glue, guaranteed against delamination, comes out with a top print.
Reeson Top Print
Size 8.0
South Central ha fatto questa tavola in collaborazione con il marchio Reeson, stessa qualità del noto marchio d'origine Italiano e formato nel 2005. Reeson significa stile e qualità, una tavola che si deve provare.
Made in USA, colla top quality, garantito contro la delaminazione, esce con un top print Reeson.
Misura 8.0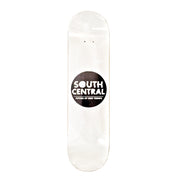 Reeson X South Central - Deck 8.0